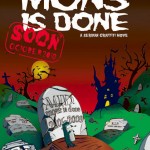 Mons is a graffiti alter-ego. It was "founded" on a wall in a Serbian city Zajecar, precisely in settlement called Avnoj. In this neighborhood Mons spent his high school days and nights, except when he would go on his trips around Balkans. That's how he "found" himself in KZS team, that is made up of loads of skateboarders, snowboarders, rappers… He was traveling whit them trough whole Serbia and while they were riding skate, he drew. Later he visited the Adriatic coast. After all the drawing and traveling, at the end of high school he got back to the wall where he had started, to mark the one story.
From October 2006 to October 2009 Mons has painted in more than 30 seats, more than 300 graffiti, and one part of the story put in a video that will come out in October 2010th, "Mons Is Done", because afterwards there was no more alterego named Mons in graffiti writting of this young artist. The video material and concept are already prepared, with technical assistance of Stefan Djordjevic who was in charge of everything is incorporated well, with musical support of G-Spot DJ-BKO.
So we can expect next month a graffiti story in the form of film to be released. Below this text is a trailer for the film.
This video is made while he was making a piece for the "VOYAGE BLEU" exhibition held in SKC, belgrade in 2010. The work is a synthesis of all his previous graffiti tours.
director: Nenad Ivanovic
camera: Stefan Djordjevic
editing: Nenad Ivanovic
music: DJ BKO
animations: Nenad Ivanovic
RoGraff: Who is Mons?
Mons: Mons is a graffiti drawer from a small town in eastern Serbia – Zajecar, namely the settlement Kraljevica, more precisely from the walls of Avnoj:),where from are the most screened scenes of the film.
RoGraff: What is the team that has been working on the film?
Mons: KZS team. It was directed by Nenad Ivanovic who mainly chased Mons to get record. Stefan Veselinovic (known member of rap group G-Spot), Stefan Djordjevic, Misa Pejcic, Nikola Bibovic were also in charge of recording his work. Stefan Djordjevic (youtube.com / userStefanKZS.) was also responsible for editing. The music was elected by Nocna Frajla from one very well-known Ukrainian rap group called G-Spot, in collaboration with DJ Godine. DJ BKO made music for the trailer. We are waiting for another couple of mixes from DJs who work for the film, but it will not be disclosed yet. One interesting thing: parts of the song that emerged in BKO DJ's mix are actually songs that will be appear in the flim.
RoGraff: Who can we expect to appear in the film ? Some more graffiti writers?
Mons: At first Mons and his KZS team, without whom the film would not be what it is, and would not be in front of you . It is their "guilt" for the Mons began to record his graffiti work. There is also his biggest drawing support MRO, one man and one semi-soul that with his soul constitutes Lebe Devo (two men, one soul). Friend part will be consisted by work of a young graffiter Inari, who followed Mons where you should and where you shouldnt draw. :)
RoGraff: And why is it called "Mons is done"?
Mons: We chose this name because Mons is gone, and this is a film about most of his activities while he existed. And when he already has so many videos, why not to make a movie? Mons had tried everything in graffiti area, at something he was bad at something was good, and the point of this movie is NOT that people see how he is better than other graffiti writers. He deserves this movie not because of that, but because he did very hard for it. "Mons is done" is still the completion of one story, and if you want to start new ones, should be finished the old ones. :)
RoGraff: Discover us a scene from the movie?
Mons: I won't :) I'll just say that it will be very interesting for people who have followed his work all these years, because many of these works they have had a chance to see in the pictures are recorded, and they will be in the video.
RoGraff: Which are the films where we can also see Mons as a graffiti writer?
Mons: I've already mentioned his first graffiti video "Mons – Croatia Tresh Tour 2009". https://www.youtube.com/watch?v=LRIU83QdSRo&feature=related Afterwards, he appears with MRO – his "other part of soul " in "KZOIS video", https://www.youtube.com/user/MonsKZS#p/u/5/53ouaLilaEY in the documentary film about skateboarding in Bor "Step By Step" https://www.youtube.com/watch?v=1NNuDK8n2GI where in addition to other works, he had painted in the barrack where is now destroyed KOLOS mini ramp, in the movie "Tilva Rosh" http://www.vimeo.com/6506431 and in many of KZS skate clips … We recently upload a new mons clip "Mons Tresh Turs" that you can watch here.
RoGraff: We know that Mons always put Hip Hop music into his films, so would you tell us if it is going to be the same this time ?
Mons: Mons is derived from hip hop. Actually by listening to Puff-Dady , Rakim, KRS One, Big Pun, Fat Joe, I introduced myself to the hip-hop culture. The reason why I draw graffiti, is that I am heavy-handed on one leg and can not do brake stuffs, and have a sense of rhythm like people without balance, I better throw rubbish in the waste but rhymes. So in the end, you watch a graffiti video and not the Beef 5 or something like that :) . I am Hip Hop culture's pilgrim, and always will be there to promote it in the best possible way. Although our editor does not like this facts about hip hop so much, it will always be hip hop in Mons' shares.
RoGraff: Where was all the filming? And how long last the filming?
Mons: All videos that appear are recorded in less than 3 years. It was mainly recorded in my city Zajecar, Bor and Negotin ,where from is the rest of KZS team, and all over Serbia where the asphalt felt skate wheels of KZS guys. Along with them I went on the"KZS – Tresh Tour 2008″ and visited ten cities in ten days and in each I drew. There are parts from Italy and various villages of Serbia. There will be recodings from the Adriatic tresh tour ,when I visited all the Croatian and Montenegrin coast drawing graff. Trailer for the video "Mons – Croatia tresh Tour 09" you can see on youtube / monskzs. There is no the entire video on the net, but just a circle of his friends got the disc.
RoGraff: When to expect the movie?
Mons: In October 2006 the first Mons graffit was made on one wall in Zajecar and in October 2009 I did my last graffit on the same wall. So you can expect the film again in October 2010.