Urban Funke 2007 took place this year on June 29 and 30 in Barcelona. The weather was perfect and the energy was as chill as can be when you've got a bunch of graffiti artists, street-ballers and skateboarders running around! On top of Montjuïc, with the Palau Nacional as the backdrop, the event's location was the most picturesque it has ever been. From watching the street-ball and skateboard competition, to checking up on the constant progressing walls of graffiti there was never a moment that you weren't entertained and in awe of everything that was going on.
SK8 Games (sponsored by Circa) launched a whole new competitive force in the arena of skateboarding competitions. Watching the skaters compete was like being inside a Tony Hawk video game, it was completely unreal. Each skater was given a chance to show off their skills in long jump, high jump, fence jumping, handrail, jump ramps, planters, obstacle course, and relay. The atmosphere was totally chill and the skaters were up to the challenge working furiously to consecutively grind both rails and land their sickest tricks. The second and third place winners bagged free merchandise while the first place winner took home a hefty sum of 2,000 Euro and a huge trophy.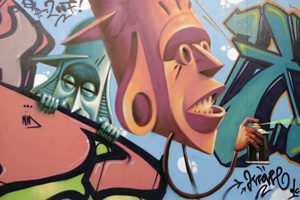 The street-ball competitions were continuous throughout the day and all the players played their hearts out showing off moves legal only in the streets. The dunk competition and professional street-ball exhibition was also quite impressive. In the end the winners of the competition were awarded bags full of goodies supplied by the street-ball arena sponsor Foot Locker. On the perimeters of the street-ball arena were massive walls that were completely filled with murals created by over 30 graffiti artists from around the world. Btoy , Tv Boy, Inocuo, Lolo, Juan Carlos Noria, David Fernandez, Victor Castillo, Nados, Sendys, Seyd, Fasim, Morgan, Maker, Kilombo, Marvel, Finsta, Izaros, Skank collective Urban Soldierz, as well as other graffiti artists showed up leaving no space uncovered.
Old school hip hop, drum and bass, funk, and electro beats spun all day creating a soundtrack that made you want to boogie from the art arena all the way down to SK8 Games. On the previous night, June 29, Urban Funke hosted GrandMaster Flash and 7 Notas 7 Colores on the same stage. They mixed new tracks and classic hits, truly a once in a lifetime experience. Joining the line-up was turntabalist showman DJ Scratch, hip-hop artist Arriana Puello and scratch battle crew Skratch Commando. The evenings continued at Club Fellini on both June 29 and 30, where DJ Assault (Detroit), Chris Deluca, and Phono deejayed the night away spinning outrageous tracks. The club was packed, everyone was dancing, and the music didn't stop until the sun came up.
On June 8 2007 Urban Funke hosted the opening party for PMFKA's art exhibit "Bag of Grease" at Vallery. His work filled the room with vibrant colours, the exhibit of graphic designs and typography were outstandingly original.
On June 21, Urban Funke hosted their second art gallery opening for 2007 called "Art on Foam" (sponsored by Quicksilver/Space Junk) at Iguapop Gallery. The exhibit showcased an array of surfboards designed by a multitude of different artists such as Adam Neate, Dave Kinsey, Flying Fortress, François Lartigau, Jean Linhoff, Jeff Raglus, Jono Word, Lucy McLauchlan, Marcie O'neill, Mr Jago, Nicolas Thomas, Ozzy Wright, Peter Webb, Randy Noborikawa, Reg Mombassa, Tinho, and Will Barra. The collection presented a range of different stylistic elements and kept everyone's attention until the Gallery had to close its doors.
Urban Funke 2007 was a ton of fun. It was a unique event that pushed the boundaries of what an urban culture event can accomplish while continuing to remain true to its underground roots.