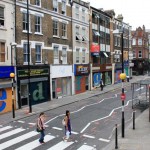 It's a tradition: heads of state exchange gifts when visiting each other. So on his recent trip to the USA, UK's Prime Minister David Cameron has given President Barack Obama a piece of graffiti art by British graffiti artist Ben Eine. In fact it was a swap: in return, Mr. Cameron was given a litho by the American Ed Ruscha.
What a rise in fame and status for graffiti! It used to be called defacing public property. Then the elusive Banksy began getting thousands for his pieces. And now the President of the USA has it hanging in the White House.
Ben Eine is a newer and quirkier gaffiti artist than Banksy, who has become almost old hat; making world tours and popping up in Canada and the USA. Eine has been in the graffiti business for almost twenty years, starting when he was 14 years old. His pseudonym comes from the word one, which morphed into uno and then the german eine.
Much is known about him; he has been photographed, he lives in the east end and he has three children, works as a full-time artist and shows his work in galleries.
His latest project, which is hardly graffiti, and more art, is located on the shuttered doors of shops in the east end of London. Called "Alphabet Street", he spray painted a letter on the door of a series of shops, all with the permission of the shop owners. They collaborated about the colour of the letter that they got. And some fit the shop, for example Flying Burrito got an F.
The street looks magical now and the locals love it: "The nicest reaction is seeing kids skipping down the street calling out the alphabet – or," he adds, "parents saying my work has helped their kids learn their A to Z."
(Source: TreeHugger)