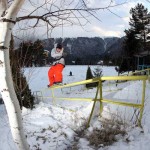 "Nitro Road Warriors In Bulgaria" is a corporate film produced by Blickinsfreie documenting the trip of the Nitro Snowboard Team to Bulgaria during the production of Blickinsfrei's new snowboard documentary.
See riders like Marc Swoboda or Darek Bergmann hitting the urban spots of Sofia but also experiencing the mountains of the unique country.
For more info look over here.