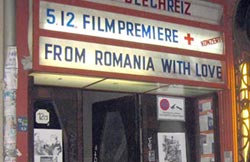 Montezooma, Jontunheimen, Sofia, Val D'Isère, Munich, Leipzig, Berlin, Plauen, Budapest, Amsterdam, Czestochowa, Krakow, Lodz, Poznan, Warszawa, Wroclaw, Baia Mare, Brasov, Bucharest, Cluj, Moscow, Bratislava, Liptovsky, Mikulas, Rebstein and Zürich
What do these cities have in common? Everywhere in these cities the new snowboard documentary production "From ROMANIA with LOVE" from Blickinsfreie celebrated an unique premiere.
The cinemas were extremely well filled, the after parties became classics and most bars had trouble providing enough drinks for the party crowd.
With the experience of how snowboarding looks like in Romania most people went home with smile on their faces excited to feel their feed on the board again.
The question if the premiere tour was a success has been answered by producer René Eckert with a smile on his face: "I guess the pictures of the tour should answers that question good enough." (you can see some pictures from the movie premiere on our site).
This January the whole movie will be released on blickinsfreie.de as High Definition – download which we are all looking forward to. We will inform you as soon as the movie is ready to hit your computers at home. Stay tuned.
Further information about the movie
Andy Fazekas a young student from Sibiu in Romania could probably never imagine that a present what he got from his German relatives in 1984 would have such a big impact on the youth in communistic Romania. A short time later he was appointed from the former communistic general secretary of Romania, Nicolae Ceausescu, to present the sport snowboarding during a big winter event to the whole nation. With the years a passionate scene developed in the Transylvanian mountain region in Romania. They dedicated their whole attention to develop that new sport in their way in the whole country. Self-made snowboards due to the bad economic situation most people have been into, problems with resorts, missing snowparks and the general unacceptance towards the sport have been the scene´s daily routine. But still no one got discouraged and tried to achieve and live his dream of snowboarding.
The documentary "From ROMANIA with LOVE" tells the story of a road trip through the Romanian freestyle snowboard scene. With professional snowboarders from countries like Slovakia, France, Poland or Hungary they met up with locals and professional riders from Romania to discover the Carpathian mountain region. Interesting interviews about the development of sport and scene but also problems young romanian riders have to deal with are completed with the most progressive eastern European freestyle snowboarding. The project connects young people from 6 different countries by one passion.
After projects in Poland (2007) and Slovakia (2008) "From ROMANIA with LOVE" is the third episode out of the eastern European snowboard documentaries produced by BLICKINSFREIE. Producer René Eckert grown up in a former communistic country himself shares also his passion of snowboarding with these projects. His aim is to bring young snowboard professionals from eastern Europe together for projects like this which enables them to get noticed in the media outside the country but also realized by potential international sponsors. He is trying to help them realizing their dream of becoming a professional snowboarder.
Teaser: blickinsfreie.de
Language: English / Romanian / Slovak / French / German
Format: HD 720P25
Duration: 26 minutes
Cast: Mihail Adolf (RO), Tomas Droppa (SK), Vladimir Breszovski (RO), Kinda Geza (RO), Mateffy Istvan (RO), Constantin Bodea (RO), Jaffar Fratele (RO), Andy Fazekas (RO), Yann Barthelemy (FR), Thibault Pomarat (FR), Leo Taileffer (FR), Tomas Korcok (SK), Wojtek Pawlusiak (PL), Michal Ligocki (PL), Bazsi Takacs (HU), Martin Freinandemetz (AT), Chris Percival (AT)
Release: January 2010
Production: BLICKINSFREIE