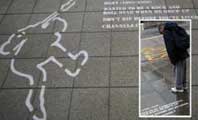 Mayor of London Ken Livingstone is trying his hand at "reverse graffiti" for a shock campaign to reduce teenage deaths and injuries on the roads around Christmas.
"Every day a teenager is involved in a road accident in London", he warns.
So his Transport for London authority has launched a Don't Die Before You've Lived campaign with pavement 'chalk style' daubings to raise awareness of safety issues.
More about this here.