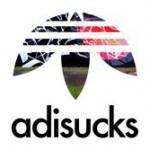 Adidas has a grassroots boycott on its hands in Poland. A Facebook group called "Adisucks" has almost 30,000 supporters.
Why the hate? In late March, Adidas decided to paint over a wall surrounding a horse racing track in a southern part of Warsaw, considered a legendary space for Polish graffiti artists – with its own advertising. And it did this illegally, according to local press reports. Like a graffiti artist, you might say. (via Wall Street Journal)
The wall surrounding Warsaw Horse Racing Track in S?u?ewiec is a mecca of the Warsaw graffiti scene, nearly 1.5 km of the living canvas covered with colorful graffiti. It has always been a very important place for the Polish hip-hop culture. A place where artists from around the world and Poland made unforgettable work and where a lot of hip-hop clips were filmed. Once full of splendor, yet declined. But still it does not change the fact that every self-respecting Polish graffiti writer knows this place. You just had to be there and leave at least one work.

Recently something really shameful has taken there place. One of the companies claiming of being a brand supporting hip-hop culture, using graffiti as printed designs on their products, identifying itself with that culture, is trying today to destroy something that is a living history and a heritage of many generations of graffiti artists, people creating and actively supporting promotion of hip-hop culture.

The company Adidas decided to replace our "Urban Gallery" filling almost the entire width of wall with a place for their advertisement! This clearly shows us all what Adidas thinks about us. They do not care about our work and history.

Therefore, we announce general boycott of Adidas products. We are not going to apply ourselves to kill this place which is a part of our history. The place where artists from around the world came to create their works for their own money. Let us show Adidas that this what is happening in front of our eyes is poorly perceived by us and our friends! Make them know they are doing wrong.

adisucks!
The wall before Adidas' action
The wall while painted over
More on adisucks

Facebook group.