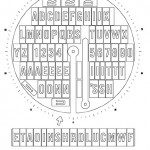 With the help of a new pie chart stencil by interactive media artist Golan Levin, creating politically charged graffiti just got a bit easier. The fully customizable "Infoviz Graffiti" toolkit allows users to quickly swap out the numbers and letters and adjust the slice of the pie.
The stencil design is available as a PDF on Levin's blog. There is also a documentation available.
If you'd like to make one for yourself, you'll need:
1/8″ (3 mm) thick sheet material, suitable for lasercutting.
a one-inch 1/4″-20 bolt, wing-nut and suitable pair of washers.
scotch tape or masking tape (to hold the letter in the stencil)
a bag (for storing the letters)
Spray paint
A laser cutter!