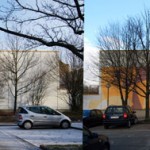 De cativa ani buni graffitiul este utilizat (LEGAL!) pentru decorarea arhitecturala. Demonstratia este facuta de un tip din Hanovra.
Multumim MTN pe aceasta cale pentru material.
Un alt articol pe aceeasi tema puteti vedea aici.
Some city councils get it, others don't. Tapping the creative talents of street artists, illustrators and graphic designers is an effective and cool way to make bland public spaces, old buildings, bridges and car parks new again, and to freshen up the concrete jungle.

It is also an effective way of keeping graffiti away. Plus it draws attention to the building or structure as "potential" not as something to be hated. Maybe it will even bring a buyer, a new occupant or additional creative ideas about how to revitalize the building? Anything but the current dilapidated state of abandoned spaces!